Pension GREENSTAR *** ubytování v Ústí nad Labem

UBYTOVÁNÍ V ÚSTÍ NAD LABEM
OUR ROOMS
Amenities rooms in the guesthouse GREENSTAR***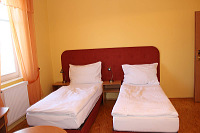 The capacity of our pension is 35 seats, they are 10 double rooms with bathroom and kitchenette, which is equipped with a fridge and kettle and crockery for coffee or hot and is to warm up.
May request a microwave oven. Rooms have either a double bed or two twin beds. Some of these rooms also have balconies, which some people definitely appreciate. Since the rooms are non-smoking.
Furthermore, we have 3x quadruple apartments, which are suitable for families with children.
They have two bedrooms with common described bathroom and kitchenette, you may also request a cot for free.
Rooms are stylishly decorated with comfortable furniture made to measure, wooden cabinets, conference her table, chairs.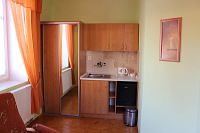 Every bathroom has a Sushi dryer, magnifying mirror and special hygienic set.
Each room has an LCD television, cable broadcast reception, internet socket and WIFI access.
security
measurement rooms Locking and unlocking the rooms through the card system.
Additional equipment
Special comfortable spring mattresses ur

Ene for hotels and guesthouses

blankets and pillows are made of hollow fibers, anti-allergens

damask scum

Eni, terry towels

blinds and curtains

possibility to use the Vault.